Category
Romance
This is a problem that actually comes on both sides of the coin so to speak. You've got authors who think they are writing an urban fantasy, but they really aren't (and they just don't know it) and readers who think they are reading an epic fantasy (but they really aren't and they just don't know it) and then the readers who stare at the screen before one clicking after trying to figure out if the genre lists below the book mean anything at all.
Here we go, your one stop shop when deciphering what the hell kind of fantasy are you reading.
CLASSIC FANTASY
Often referred to as Epic Fantasy. Robert Jordan, Brandon Sanderson, Terry Goodkind, George RR Martin, Robin Hobb . . . all these are epic fantasy. A world all its own with no connection to our own. They might have their own religions, political situations, magic systems or even way of cursing (Blood and bloody ashes comes to mind). Classic or epic fantasy tends to run longer too than other kinds of fantasy. Let's face it, you can't create a believable world in four hundred pages (well maybe someone can but I haven't seen it yet).
Expect these to be big, big books.
HISTORICAL FANTASY
Usually a slight variation on the classic fantasy above. Think alternate history worlds. Books like Naomi Novak's series about dragons in the Naploeonic wars (its on my TBR list) or Jacqueline Carey's Kushiel's Dart series set in an alternate France with a whole new twist on the words, Love as thou Wilt.
URBAN FANTASY
I've done a post on this but I will recap. Expect your characters to live in our world, but be surrounded by magic and monsters. These books are often crammed full of action, intrigue, fight scenes and twists at the 80% mark that will have your pulse pounding. I see most of these books topping out at the 350-400 page mark, a perfect read for a long weekend. Look for authors like Patricia Briggs, Kim Harrison, or me ;)
PARANORMAL ROMANCE
This is a story that's going to (usually) be set in our world not unlike the urban fantasy above. The difference is there the story will revolve and rely heavily on the romance aspect. Expect sex scenes of varying smexy degrees. Expect billionaire bear shifters, wickedly handsome werewolves, and viciously violent and yet still somehow soft and sweet vampires. You'll get magic here, you'll get shifters, and you'll get a ton of sexy time.
So while it technically IS urban fantasy, you might not see it as such except for glimmers here and there.
Now here's where things get hard to decipher. An author can blend these together . .. for instance I have an urban fantasy that borders on being a classic fantasy (weird, I know) but I've created a an Elemental world within ours that doesn't touch on the human world.
Having the definitions is nice for sure, and I hope they help, but the reality is, the fantasy world is a big place. One we can all be blessedly lost in from time to time.
HAPPY VALENTINE'S DAY!
I hope you all are having a wonderful Valentine's Day with your loved ones.
I wanted to write you a post as I know you all were expecting the first four chapters of "Rootbound" in the newsletter this time and I wanted to explain why they aren't available.
I've written over 40k words in "Rootbound" well past the first four chapters. Earlier this week, I was finding difficulty moving past that number. The words weren't coming, I didn't know what was going to happen next (and this was with a full synopsis and plot that told me where I was going with it) and I was beyond frustrated.
I sat back and started to pick the story apart, trying to pinpoint what wasn't working. Because when a story won't flow for me I know there's an underlying issue. It's my subconscious stopping me and trying to get me to notice what's going wrong.
In this case, the problem was simple. The writing was strong. The characters the same as always.
The story though . . . was not right. And it was not right, from the beginning.
For me, that means back to the drawing board. Plotting, new synopsis, new ending and completely new motivation.
And while I'm at it, I'm working on the plots for the final books in the series. As you can see by the picture above, I even have titles all worked out.
So while I know there will be disappointment that the first four chapters of "Rootbound" isn't available in this newsletter, I PROMISE it won't be much longer. Better to make sure it's the best I can make it, rather than give you something that at a later date I will realize is sub-par.
If you aren't already subscribed to my newsletter, you can do so HERE. It's where all the cool kids are, and where I share secrets and goodies like where to get these chapters – it won't be in a blog post!
Thank you for your patience, your reviews, and your support with my writing!
RAISING INNOCENCE
(THE RYLEE ADAMSON NOVELS, BOOK 3)
NOW ON SALE!
Grab your copy of Raising Innocence – $0.99 for a limited time!
GENRE:  URBAN FANTASY PARANORMAL ROMANCE
SALE DATES:  AUGUST 21-25TH ONLY
"My name is Rylee, and I am a Tracker."
When children go missing, and the Humans have no leads, I'm the one they call. I am their last hope in bringing home the lost ones. I salvage what they cannot.
The FBI wants me on their team. Bad enough that they are dangling bait they KNOW I can't resist.
The catch? It's on the other side of the ocean.
And if I want what they're offering, I have to help them with a salvage gone terribly, terribly wrong.
But this time, I have no back up. I have no Plan B.
And I have no O'Shea.
BUY RAISING INNOCENCE ON SALE NOW
RED HOT LOVERS
STEAMY ROMANCE BOXED SET
Red Hot Lovers: 18 Novels of Love, Passion, and Thrilling Suspense.
RELEASE DATE: March 24, 2015
ON SALE FOR A LIMITED TIME! Over 3000 pages from your favorite NYT and USAT bestselling authors!
Eighteen NYT, USA Today, and top-selling authors have banded together to bring you 18 beautifully romantic, heart-pounding stories of love, passion, and thrilling suspense.
These 18 sexy, sweet men will go to the ends of the Earth to win their ladies' hearts, but will these lovers emerge unbroken?
From first kisses to dangerous encounters and second chances at love, we've gathered all 18 wonderful stories in one big box. This heart-pounding collection is filled with confident, sexy, and sweet men you'll fall madly in love with.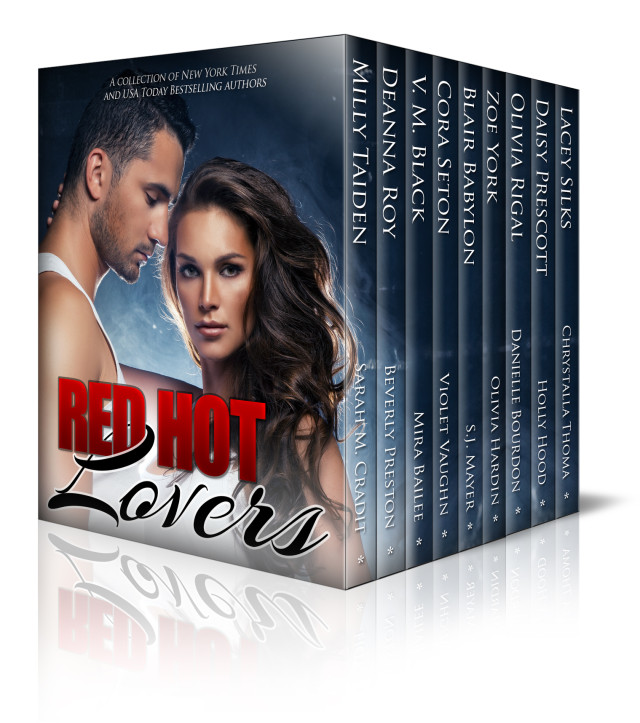 EIGHTEEN NOVELS TO CAPTURE YOUR HEART
AND SET YOUR BLOOD ON FIRE!
Their Second Chance by Milly Taiden – Nick lost the woman he loved to the heartbreak of infertility. One locked door will either leave them broken forever or back together.
Forever Sheltered by Deanna Roy – A doctor with a secret falls for the unorthodox art therapist at the hospital where he works, sparking a love affair that could destroy both their careers.
Kiss of Memory by V. M. Black – Will has spent his adult life locked in a Victorian sanitarium because he suffers from seizures, but a mysterious baroness offers him a bargain he can't refuse.
The Cowgirl Ropes a Billionaire by Cora Seton – Bella needs money fast, so she enters the reality show, Can You Beat a Billionaire. If she loses, she'll have to marry him.
What A Girl Wants by Blair Babylon – Rhiannon, brand-new back-up singer in the rock band Killer Valentine, cannot fall in love with any of the band members. Really. She must not. Really.
Beyond Love and Hate by Zoe York – Tall, dark, handsome, and totally infuriating. Beth can't stop thinking about her new colleague. But Finn isn't the guy for her, and they both know it.
Ripped by Olivia Rigal – Lyv wants a life far from her dysfunctional family and their diner. What she gets is an absent rock-star baby daddy and one helluva choice to make.
Ready to Fall by Daisy Prescott – Falling in love is the last thing on John's mind when Diane, a beautiful brunette with her own messy past, moves next door.
My First, My Last by Lacey Silks – Pierced, tattooed and hot as hell, Adrian steps back into Mia's life after 20 years. Mature. More experienced. Intent on reclaiming his first love.
Azure by Chrystalla Thoma – On vacation in Greece, Olivia meets sexy and enigmatic Kai, but Kai belongs to the sea, and the sea won't let him go, unless Olivia breaks the curse before it's too late.
Wicked Little Sins by Holly Hood -The more wicked the sin, the deadlier it can be. Home for the funeral of their mother, four siblings unearth more than they bargained for.
The Royal Elite by Danielle Bourdon – Ahsan-Sheikh Ahsan Afshar, an arrogant, seductive rogue, falls for a woman whose deadly secrets could tear them apart.
All for Hope by Olivia Hardin – Brennan didn't want to be the love of Hope's life. He wasn't the man she needed. But sometimes the safest distance between two hearts is none at all.
High Risk Love by S.J. Mayer – Risking it all for the one who could shatter her heart completely? Bad idea. Yet Jasmine can't stay away from Jet any more than he can from her.
Rush by Violet Vaughn – Olympic hopeful Gretchen is all for a sex only relationship. But when it races out of control, love isn't the only devastation that threatens her chance for gold.
First Taste by Mira Bailee – Cautious Olivia has no interest in the lives of celebrities until Devon Stone—sexy tabloid favorite—insists she cater a party at his mansion.
The Perfect Someday by Beverly Preston – Tracy lives by a strict moral code, but one masked night with a handsome Italian who entices her deepest desires changes everything.
St. Charles at Dusk by Sarah M. Cradit – Set amidst the lush and vibrant backdrop of New Orleans, Oz and Adrienne must survive forbidden love and startling heartbreak.
Sign up to know when it's out: http://eepurl.com/TW7HP

Like the Red Hot Facebook page to keep updated on this and future boxsets!